Fresh research by UNI Europa has revealed Amazon received over €1.3 billion through lucrative public contracts in Europe over the past three years. There has been a dramatic increase in both the number and value of public contracts governments and public institutions are awarding to Amazon, in spite of recent tax dodging, competition and union-busting scandals.
While new contracts are regularly being signed, 2021 is already Amazon's record year for getting public contracts in Europe. The corporation has maintained its dramatic revenue increase during the pandemic-induced economic slowdown. Meanwhile the number of contracts it gets has been increasing year on year.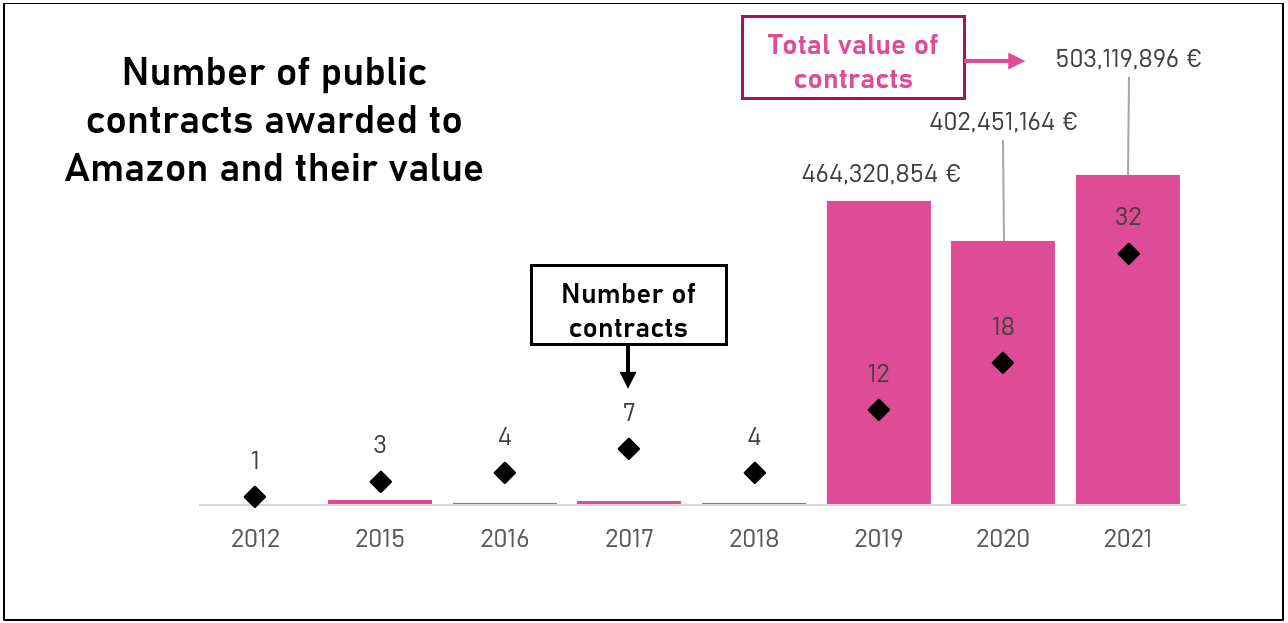 The vast majority of the contracts are brought in through Amazon Web Services (AWS), the corporation's web and cloud computing arm. Among the public contracts reviewed by UNI Europa are some signed by local and national governments as well as one with the European Union institutions for €58 million in 2020.
Significant evidence suggests that the expansive growth of Amazon's e-commerce operations are only possible due to the income generated from AWS. Through what is known as cross-subsidisation, Amazon redirects profits generated through AWS to fund the expansion of its e-commerce operations which have been loss-making.
Oliver Roethig, Regional Secretary of UNI Europa said:
"The type of moral failure that sees socially damaging corporations get large sums of working people's tax money is not inevitable. Public procurement can and must be used for the public good. That means requiring that corporations receiving public money respect their workers and don't undermine basic social standards. Collective bargaining is core to the European social model. The EU has a responsibility to ensure that corporations that undermine working people's say at work must themselves be excluded from receiving public money."
"Is it reasonable that a tax dodging corporation manages the cloud infrastructure for a national tax agency? These are highly sensitive data and this report also raises the question of Europe's sovereignty. We have both the skills and infrastructure here in Europe to cater for the needs of our public services. Are we really ready to trust and cement in our reliance on a corporation that undermines core elements of our social model for the provision of long-term essential infrastructure?"
The report (download here):