Fresh analysis by UNI Europa shows that when working people are empowered to bargain collectively, societies are more cohesive and democracies are healthier. On Democracy Day, UNI Europa calls on the EU to stop allowing public money to undermine democracy at work.
"The essence of democracy is not just the freedom to speak—it is the right to have a say. This principle must be embedded at every level of decision-making. Democracy is not just voting every few years but it is also people having a say over decisions that shape their everyday working lives," said Oliver Roethig, Regional Secretary of UNI Europa.
An avoidable trap: inequality
At EU level, inequality is growing. People's income is less and less determined by the quality or quantity of their work and increasingly by their wealth.
Wherever we look across the EU, the direct relationship between the proportion of working people who are covered by a collective bargaining agreement and inequality is stark.
In Germany, people's ability to bargain collectively has been weakened over the past two decades. As working people have had less of a say over their conditions and pay, more of the wealth they generate has been captured by investors.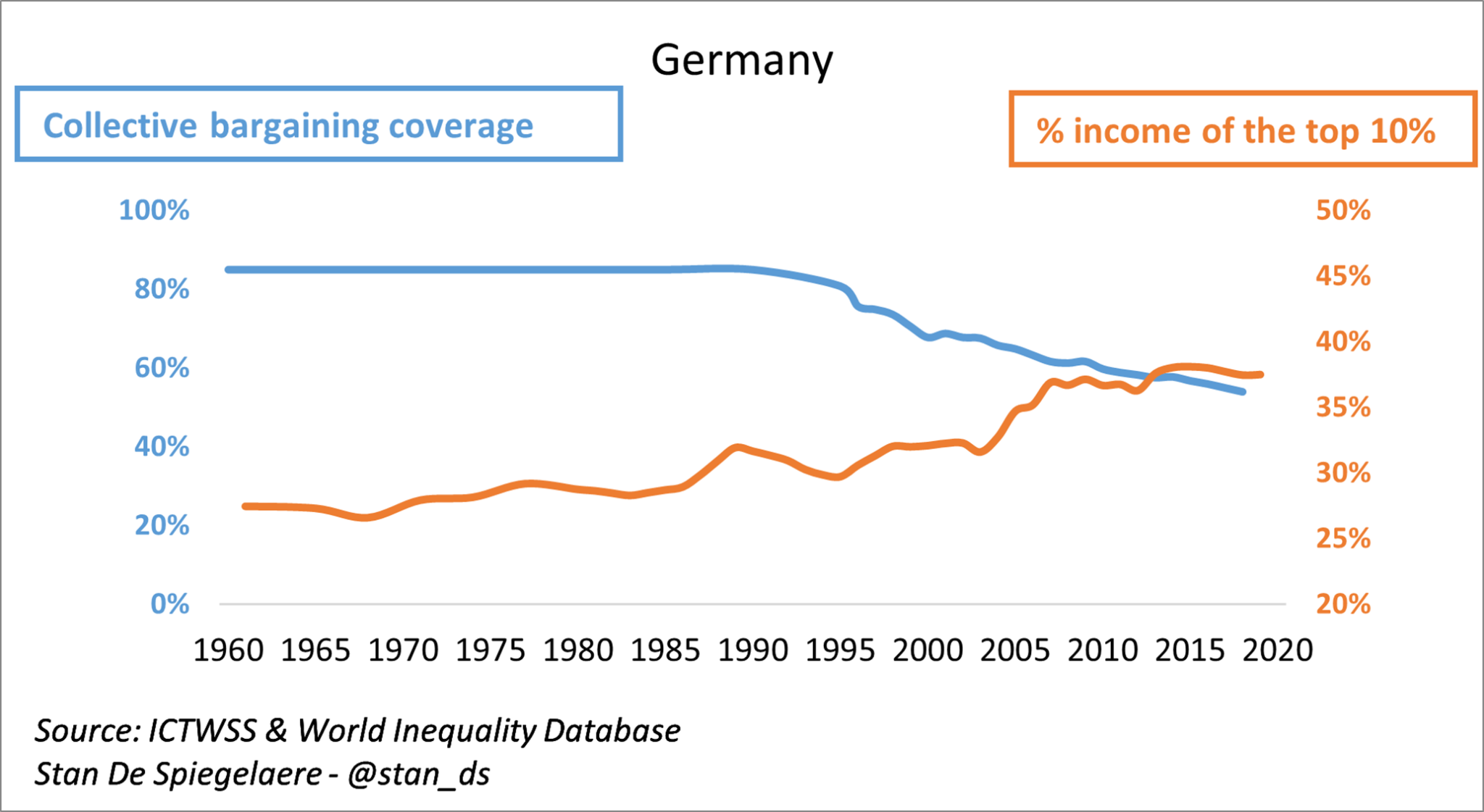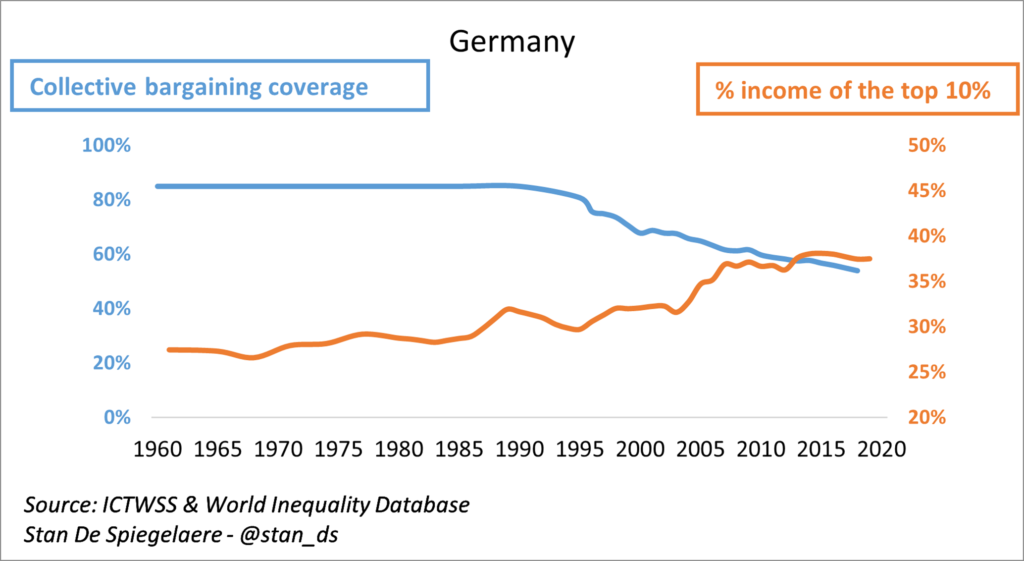 A similar, if more advanced process, is visible in the United Kingdom.
The attack on working people's #CollectiveBargaining rights in the #UK has certainly paid off for the wealthiest.

But at what cost? Left without a say at work, people have faced increasing job insecurity which has driven up inequality and fuelled feelings of powerlessness. pic.twitter.com/ztQ13bn3MB

— UNI Europa (@UNI_Europa) September 8, 2021
Conversely, countries in which people's collective bargaining rights have been protected have not seen income inequality grow to the same extent.
And where collective bargaining is strengthened or remains roughly the same, inequality doesn't rise as dramatically

Here are some examples from Austria, Denmark & France

4/5 pic.twitter.com/SPzhTJpNEw

— Stan De Spiegelaere (@Stan_ds) September 6, 2021
Collective bargaining: a bulwark of democracy
Beyond delivering shared prosperity, collective bargaining also embeds democratic conscience and practice within society. Evidence suggests that active union members are 10 percentage points more likely to express commitment to core democratic rights like voting, petitioning or public demonstrations.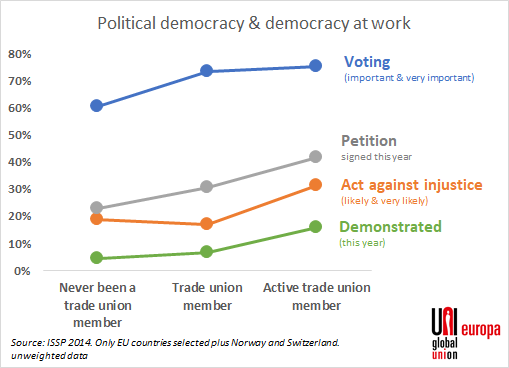 "Bargaining collectively gives people a first-hand experience of democracy that delivers tangible improvements for them. But also, by having to bring together different perspectives and interests, people gain a real-life understanding and respect of diversity. Conversely, if people don't see that they can shape decisions about their immediate surroundings, why would they think they can shape more removed decisions within politics?" said Oliver Roethig.
While collective bargaining has a positive impact on people's commitment to democracy, it also results in more democratic institutional structures.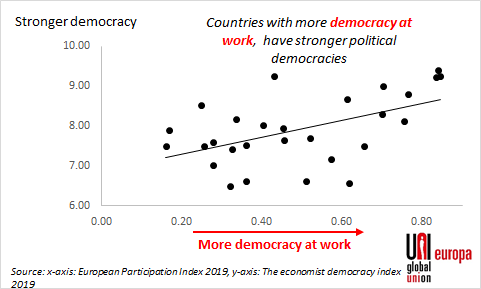 EU Action to strengthen collective bargaining
€2 trillion is spent every year by governments and public institutions across the EU for goods and services delivered by private corporations. This money can play a determining role in lifting working people's conditions.
Together with a growing number of Members of the European Parliament, workers' unions have been calling for the EU to take a simple but determining action: exclude corporations that refuse to sign collective bargaining agreements from receiving public funding.
Instead, this money often fuels the race to the bottom. That is because public procurement rules are skewed to favour price over all other considerations. Under these circumstances, corporations consistently turn to undercutting working conditions by suppressing their workers' fundamental collective bargaining rights.
Correcting the flaw in the design of public procurement rules would be a major step to protecting boosting collective bargaining and protecting democracy. Get behind the campaign, support it here.
In addition, UNI Europa is calling on the European Commission to set up a taskforce similar to that set up recently by the Biden administration, to explore how it can reinforce collective bargaining throughout its operations.